Hell's Kitchen 9x8
10 Chefs Compete
Chef Ramsay asks the remaining 10 contestants to nominate one chef from each team who possesses the best leadership skills. The Blue Team decides on Will, while the Red Team struggles to make a selection. When they meet Chef Ramsay in the kitchen the following morning, the Red Team picks Jennifer as their strongest player.
But in true "Hell's Kitchen" style, Chef Ramsay turns the tables on the contestants as he describes today's challenge. He asks the two strongest players to name their weakest teammates. Jennifer does not hesitate to say Carrie, and Will immediately calls out Tommy.
For this challenge, Carrie and Will must lead their respective kitchens. They will start by creating a menu for their versions of five classic comfort foods: spaghetti and meatballs, pizza, burgers, Cobb salad, and chicken noodle soup.
The Red Team, especially the outspoken Elise, disagrees with Carrie's game plan, but at least she has one. Tommy can't pull it together, and the Blue Team waits for his guidance. Jonathan creates a pizza following Tommy's recipe but struggles to get his leader to focus. Still, both disorganized teams manage to finish the dishes before time runs out.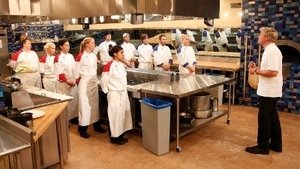 Aug. 09, 2011